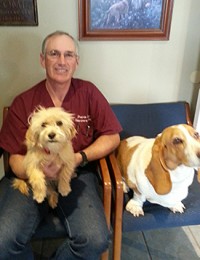 DVM
Having grown up in a small Texas panhandle town with farming and ranching background, I was looking to locate as close to home as possible. That was Clovis, NM in 1991 and before long we had established roots making it permanent.
My dream, 40 plus years ago, was to become a Veterinarian. I still can't imagine doing anything else. My father and grandfather, both great men, showed me compassion and respect for all animals. Dark cold nights birthing and tending calves and foals has translated these many years into C-sections of dogs and cats, repairing broken bones and making trusted family pets feel better. I am most definitely living my dream!
The fur people in the photo are Squeaker and Mollie. You guess which one is Squeaker. My wife thinks Squeaker's name is Maggie but Squeaker fits pretty well. My daughter Courtney has her sister, Ellie, both born on St. Patrick's day 2015 by C-Section. Dr. Scott and their previous owner maliciously showed them to my wife and that's how I ended up with them. I also have 3 cats, Jack, Miss Priss and Mattie and one horse named Paco, which belongs to my son Cole.
My wife, Lori and I have three wonderful children Cole, Courtney and Corbin. Lori is the Music Teacher at Mesa Elementary School, she teaches piano privately and has a music ministry at our church. My appreciation and admiration goes to my family for enduring the long hours and stress my profession demands. The glory for the blessing of my family and accomplishments I give to God.